"Change the way you look at things and the things you look at change." Love this quote by Wayne Dyer. It allows us to take a step back and remind ourselves that perception is very subjective. Earlier this week on The Red Fairy Project Facebook page, I did a live video about The Four Agreements by Don Miguel Ruiz.

One of the agreements is "Don't make assumptions". I had never thought about how many assumptions I made in a day until I read that book. Assumptions about others, situations and the true possibilities that are offered to every one of us.

We often think that how we view life is how life is but that's just our perception of it.

Our perceptions create our reality so if you are not at ease with yours, ask yourself if perhaps you can look at things in a different way. I know I can be stubborn sometimes but when you feel like you are banging your head against the wall regarding a particular situation, it's probably time to look at it from a different angle.

We all view the world trough our own lenses which are affected by our education, past experiences, fears and so much more.

The good news is that if we have an openness to view things differently, new opportunities can present themselves to us. Take a moment today to think about how you are looking at certain aspects of your life and if perhaps changing your perception might help you move forward.

If we are flexible and open in how we view our life, the world and others we are open to magnificent things unfolding for us. Wishing you a wonderful day filled with a fresh perspective as well as an open heart and mind.
Purchase The Four Agreements by Don Miguel Ruiz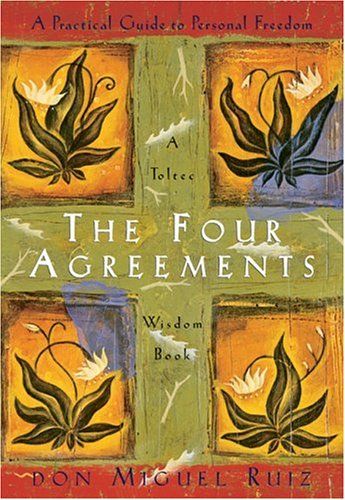 Did you find this post helpful? Like it and share it with your friends! The more we are to bring daily inspiration into the lives of others, the better. To dive deeper into this topic, continue reading below!

Feature image by Collective Hub (my favourite magazine ever).