If you haven't heard of Snapchat yet, you're in for a treat. Nope, it's not just another social media platform. It's an app that offers a truly unique experience and in my opinion it's the most fun of all. Why? Because people feel comfortable being themselves and that involves realness (plus some silliness-hello animal voice filters).
I'll be honest, at first I WAS TOTALLY INTIMATED BY SNAPCHAT. I downloaded it to my phone and couldn't figure out how to use it. Made me feel like an old fart! I put it aside for a while but then…
I just love to discover new ways to share content and connect with you guys so I dove in fully and figured it out. Turns out, it's easy peasy- once you get it (explanations follow).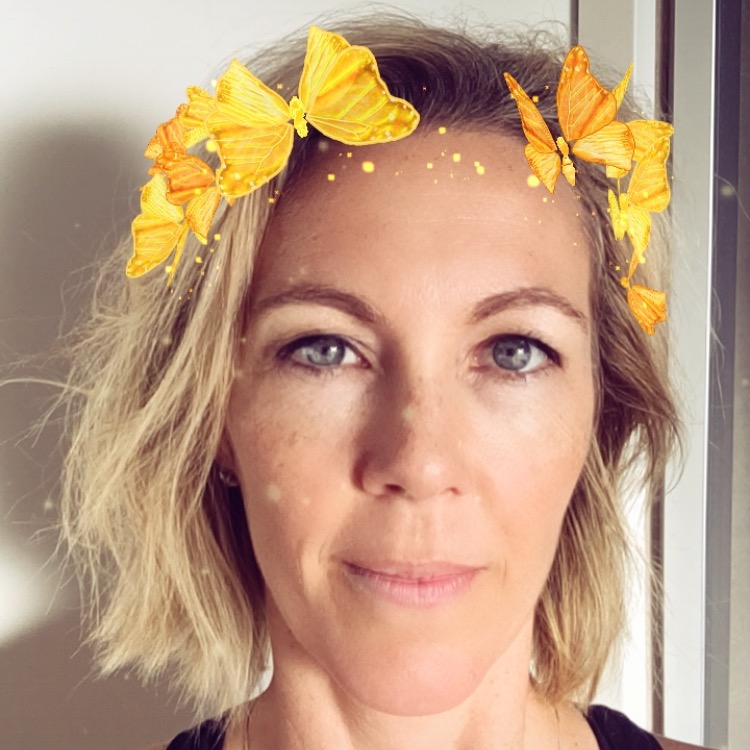 I've been sharing so much juicy content on Snapchat (some fun examples below) since my arrival in Switzerland: photos and videos I don't post anywhere else. Why? Well…
FACEBOOK 
Facebook's algorithm doesn't allow us to see all the content of our favourite brands/people. Individuals that are on Facebook for their business basically have to pay for their posts to be seen or they just get lost in the shuffle.
What this means for you the reader: You're missing out on some great content and are at the mercy of Facebook for what posts actually get to you. Kinda sucks, no?
---
INSTAGRAM 
I'm still loving Instagram but it's very curated content, meaning that you want your feed to look pretty overall so you have to be careful and strategic in what you post.
What does this mean for you the reader? You are only seeing an edited version of what people really have to offer and it can sometimes even make you feel crappy when you scroll through their seemingly perfect life.
---
So what am I sharing on Snapchat? EVERYTHING.
Okay, not everything but this is the most open, generous and authentic I've been since having an online presence. It's not to say that I'm not real on my other platforms but Snapchat just makes it easier + with those silly filters and emoticons it just brings out my humourous side which is a side of me some of you might not have seen yet.
MY HEALTHY MEALS + RECIPES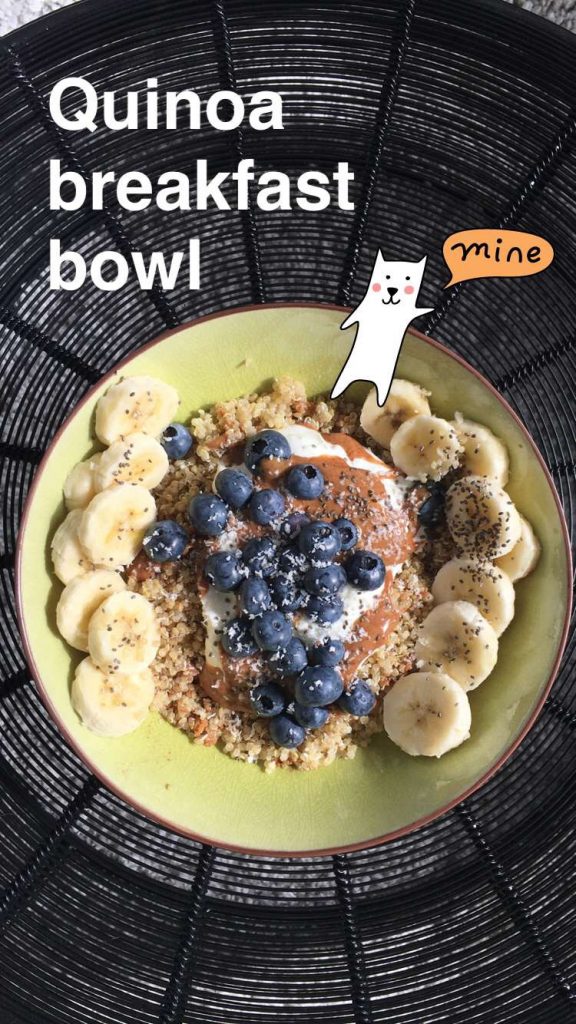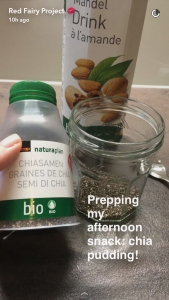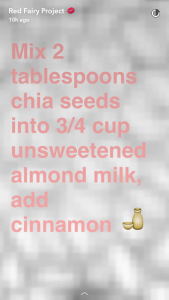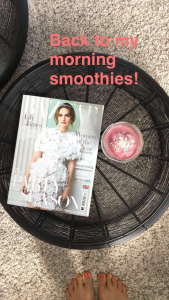 MY WORKOUTS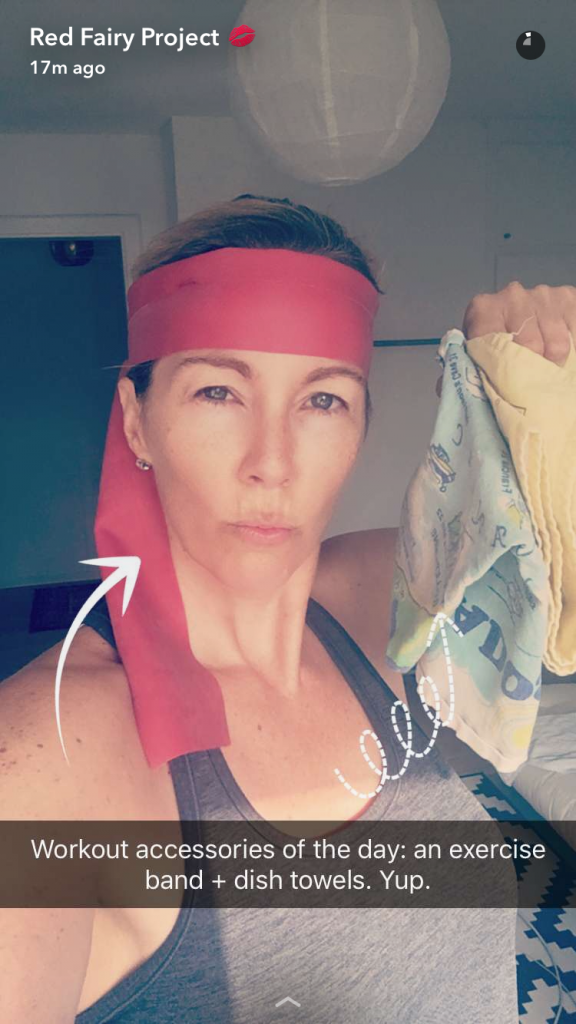 FAVOURITE PRODUCTS (health, beauty +more !)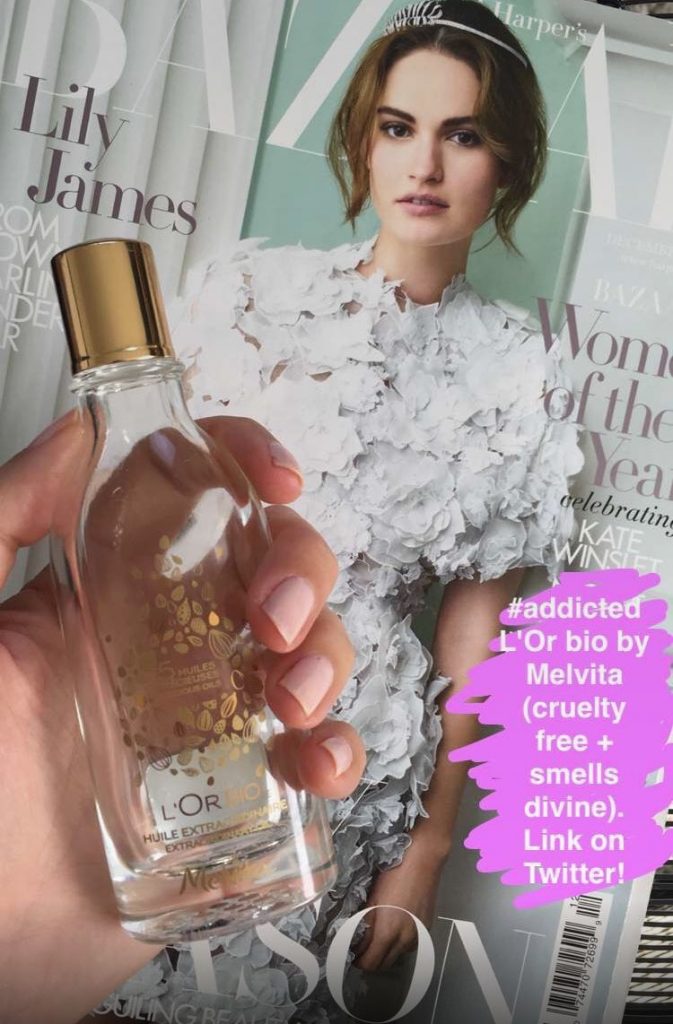 So Snapchat is basically like a quickie… blog post.  It just makes it really easy for me to share all my healthy discoveries and favourite products so I can post several times on a daily basis. I also do lots of videos but couldn't figure out how to upload them here. See, still learning!
On board now? Good!
Join the party on Snapchat by downloading the app and adding redfairyproject which you can do one of two ways:
Click on the little ghost at the top, then click "add friends" (my username is: redfairyproject)
Take a screenshot of the feature image of this post (the first image with the ghost) then open the app on your phone, click the white ghost at the top, click "add friends" and click "add by Snapcode". This will open your camera roll: select the screenshot you just took and that should do the trick!
Happy Snapping and I look forward to seeing you there!
Geneviève xo