I've been on a roll lately when it comes to whipping up delicious fall inspired meals like soups and in particular squash recipes. It's funny really as I usually like meals that are much lighter but I guess that's what the autumn weather does to yme. You just want to feeling comforted and really satisfied. These spaghetti squash and pasta recipes are both by Pinch of Yum.
The photo above is her Creamy parmesan orecchiette with butternut squash and broccolini and the one below is her super cute spaghetti squash lasagna boats. One of the reasons I love these 2 recipes is (aside from the fact that they are DELISH) is that you can freeze them to bring left overs to work or just reheat when you're at home and feeling lazy. I'm all about meal planning as I wrote about here  so practical and tasty recipes like these are winners.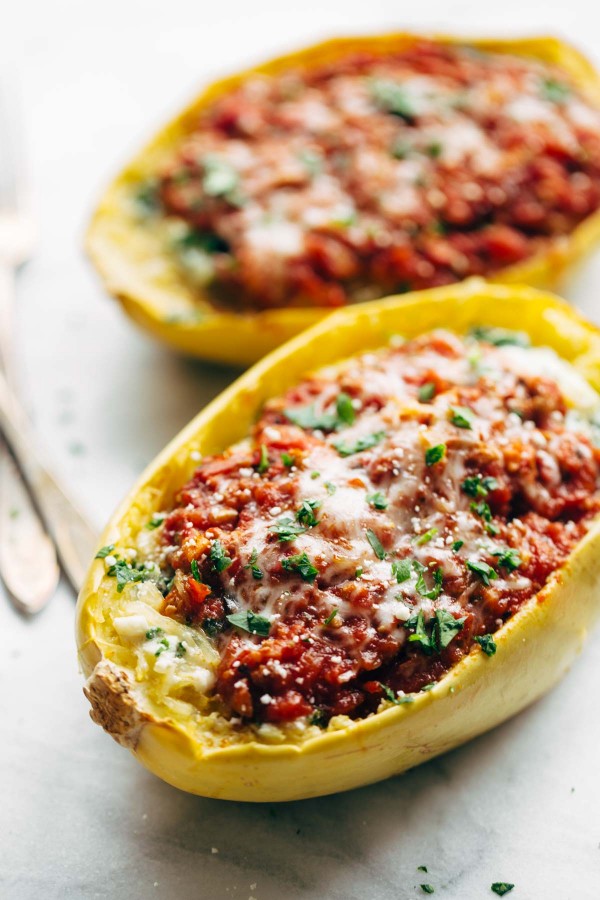 Two other really comforting meals that are tried and tested are this lighter tuna casserole recipe and by boyfriend's amazing vegetarian chilli.
What are your favourite fall foods and comforting meals? Share them below (include link if the recipe is online)! Until next week, I'll probably be making more magic in the kitchen this weekend because when it's cold and rainy, what better activity to feel inspired and get your week organized?
Want to receive a weekly dose of inspiration on how to live healthy + happy (and more yummy recipe ideas like these)? Sign up to the Red Fairy's magical newsletter here.
Geneviève xo