We are now in month two of Your Best Year Yet series and I must say that I am very excited about this month's topic: LOVE. Yes looooove! To some, love solely involves another person (ex: a family member or romantic relationship) but the first person we need to direct love to is ourselves and that will be the focus of today's post.
MY PERSONAL JOURNEY TO SELF LOVE
I struggled with self-acceptance and self-love for many years. I had a very vocal inner critic and she used to dominate my every thought. I even ended up attracting a romantic partner that had the same critical dialog towards me as I had towards myself.
One day though, I decided I had had enough of all these harsh internal and external voices. It was one thing to be hard on myself but I didn't need someone else adding to that. We eventually broke up and despite it being a difficult period in my life, I am very grateful for it because it taught me just how much self-love was important to me.
WHAT HAS YOUR JOURNEY BEEN LIKE SO FAR?
I believe that if you don't truly love yourself, you can't really move ahead with your life and be your best self. Sure, you can muster through the days, go to work, get things done, have a semblance of a life but many things will feel like an uphill battle.
Maybe one of these examples will sound familiar: you can't lose that extra weight, you aren't meeting "the one", you have difficult relationships with friends or colleagues. It's not to say that all these situations are based on lack of self-love but they can be greatly impacted by it. When you don't truly love yourself, you always feel a bit uneasy and that infiltrates everything you do and everyone you deal with.
I believe that one of the reasons I struggled so much with self-love is because of perfectionism. That voice that says you're never enough and that whatever you do will never be good enough.  As much as I have evolved over the years (and I am proud to say that I do love myself now), I still have that perfectionist voice that taints some of my thoughts.
PERFECTIONISM IS THE OPPOSITE OF SELF-LOVE
When I heard about Brené Brown's book The Gifts of Imperfection, I knew it would be a game changer. I read it cover to cover in 2 days and took countless notes as I predicted I would want to share my learnings with you. Below are the 4 most precious lessons from the book in my opinion. I share these nuggets of wisdom (excerpts from the book accompanied by my thoughts on each) in the hopes that they will give you some perspective on your own relationship with yourself.
SOME POINTERS
Take your time to read the points below. You might want to read one, think about how it relates to you and then come back to read the others. I've also included related posts so if something below really resonates with you you can dive even deeper into that topic. You can also pin the images below to Pinterest (click the red Pin It button that appears when you mouse over) to use them as reminders or share them with others. And finally, what I love to do is save visual quotes that inspire me and use them as my desktop wallpaper or screensaver.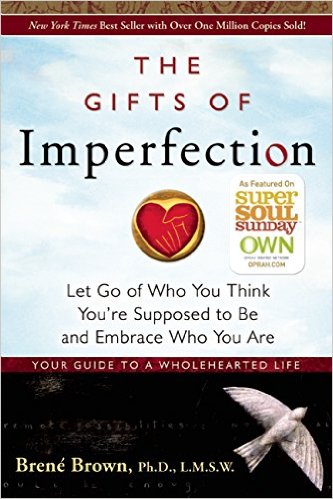 WORRY MORE ABOUT HOW YOU FEEL AND LESS ABOUT WHAT OTHER PEOPLE MIGHT THINK 
Most of us know this in theory but in practice we often struggle. We lay our self-worth in the hands of others and end up feeling extremely vulnerable. Relying on others for your self-worth is a very dangerous game. One that when you embark on is never ending and extremely draining. The reality is, despite all your efforts to please, you cannot control how another person feels about you. You might believe that they think you are a superstar when in fact they dislike you or it could be the other way around. Refocus your energies on accepting of yourself no matter the mistakes or perceived failures. This unconditional love can take you so much further and it's a much healthier and comfortable path.
Related post: What you think of me is none of my business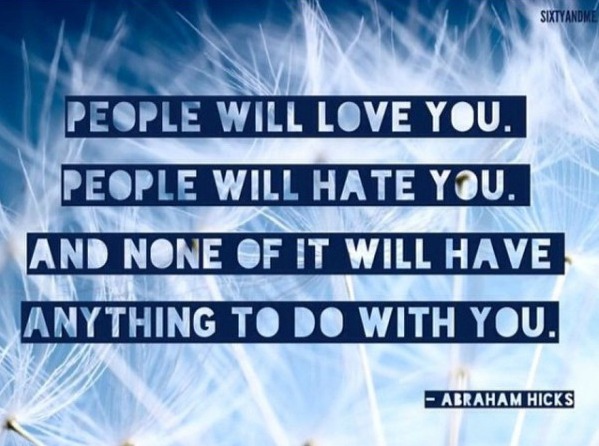 BEHIND PERFECTIONISM, LIES THE FEAR OF DISAPPOINTING PEOPLE 
One of the other dangers of putting your self-love in other people's hands is that you will be willing to do almost anything to get their approval because you depend on it so much for validation. You'll have trouble saying no to requests and will try to convince yourself that it's because you are so generous and helpful. Part of that might be true but let's be honest: if you say yes when you want to say no (especially when it's to something that doesn't sit well with you) you're doing it in order to not disappoint and in the hopes of getting love from that person in return.
This quote from Oprah is an eye opener regarding this topic: You cannot lead a brave life without disappointing people. If you want to lead a brave life, one where you are your authentic self and don't betray your core values, you are going to disappoint some people and you must learn to be okay with that. When you build enough confidence in yourself, you become more comfortable with not always pleasing others because your self-worth doesn't rely on their approval.
Related post: You are very powerful, provided you know how powerful you are
OWNING OUR STORY AND LOVING OURSELVES THROUGH THE PROCESS IS THE BRAVEST THING THAT WE WILL EVER DO
We must be proud of our war wounds (our mistakes) and of the unique path we have taken so far. For so many years, I wasn't my authentic self. I acted the way I thought others wanted me to act and it was EXHAUSTING. So much so that I ended up having a burn out. Not from too much work but from being drained of my energy because all of it went towards keeping up false appearances. Learning to put down the mask was a process, but every time I chose to be myself (in a meeting or on a date) I felt lighter and freer. Once you get that feeling, you don't want to let it go…
Related post: Own your story with pride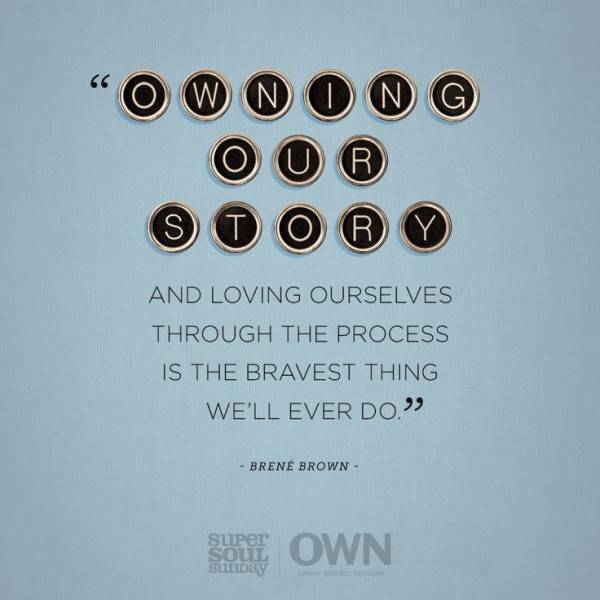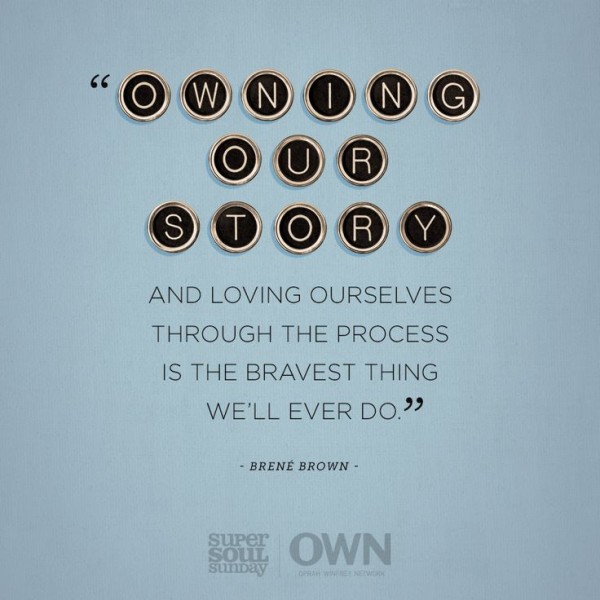 NO MATTER WHAT GETS DONE AND HOW MUCH IS LEFT UNDONE, I AM ENOUGH
This is probably one of my favourite quotes. Isn't it reassuring to think that no matter what you do (or don't do), you are enough? So many of us base our self-worth on what we accomplish from our to-do lists to our careers and personal life. That's all well and good when things go according to plan, but what happens when we don't reach that goal? Our self-worth usually suffers. We live in a performance based society and it's slowly making us sick. We must redefine our self-worth on HOW we are (loving, compassionate, kind), not what we do.
Related posts: You are enough, Redefining success with Arianna Huffington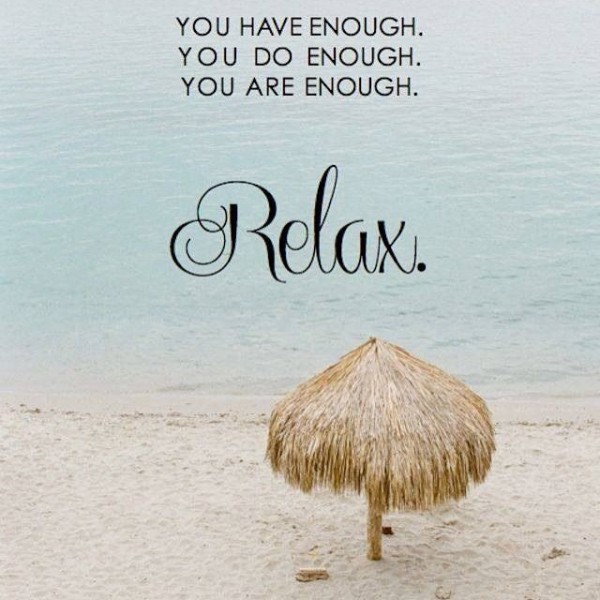 There is so much more wisdom in The Gifts of Imperfection but I'd rather leave you to ponder the four points above and really let them sink in. If you recognize yourself as a perfectionist, you know that you're not alone. That's one of the reasons I loved this book so much. It made me realize that even some of the most successful and inspiring women in the world struggle with the harsh inner critic.
And finally, to come full circle back to the title of this post "The one thing you can do to make this your best year yet", the answer to that is actually the subtitle of Brené's book: Let go of who you think you're supposed to be and embrace who you are. Let's all walk that path together, one step at a time and discover how beautiful our life can be when we see just how beautiful we are.
If you would like to purchase The Gifts of Imperfection, click here.