Summer time is perfect for catching up on books you've been meaning/wanting to read for a long time. Depending on what mood you are in, there is a book for it. Although I'm a fan of light literature if I'm by the beach, I actually remember reading A New Earth (which I don't consider a light read) when I was in Jamaica. I was there with my ex-boyfriend and let's just say there was trouble in paradise.
Without going into too much detail, our relationship was heading toward its end and A New Earth couldn't have come at a better time. To say that it changed my life and opened my eyes to a new way of thinking is an understatement. This book created a profound shift in me and I was finally able to observe my thoughts rather than being totally consumed and bullied by them.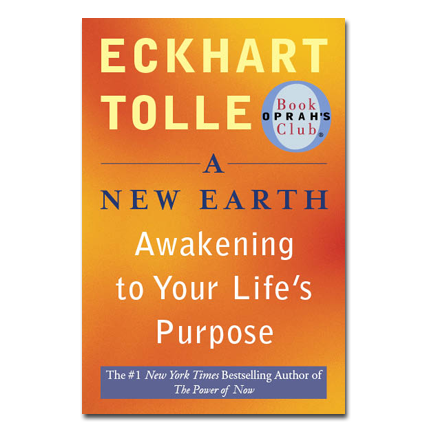 I'm currently in Switzerland and unfortunately don't have my copy on hand with me so all the precious notes I jotted down in them aren't accessible but to keep it short & sweet (as I said these Friday posts would be), A New Earth is for those who are thinking to themselves "Is there something more?" or "What's my purpose?" or basically for anyone that wants to be happy and at peace with themselves.
Important note: The first chapter is kind of heady and hard to grasp but don't let that detour you from reading the rest of the book. It's after chapter 1 that the magic happens and you start gathering so much wisdom and precious tools to help with life's challenges.
BUY IT: hard cover | paperback | Kindle | iBooks | audiobook
If you have read A New Earth, share your impression of it in the comments! This can help other readers decide if this is for them or not. I you've read other books that created a similar shift in you as A New Earth did for me, please let us know below as well. Happy reading!
Geneviève xoxo
---
*The above are affiliate links. If you buy one of these items via my site, I can earn revenue from the sale (gotta pay those bills!). I only feature products that are aligned with living a healthy + happy life so you can be 100% confident in your purchase. ;)