I am passionate about living a healthy life and more and more people are as well which is great. I believe that living a well balanced life can be divided in 3 "realms" if you will: BODY, MIND AND SOUL. Let's focus on the body for this post but even this realm can be divided in smaller areas: 1) Exercising (moving your body in some way) and within this I believe that cardio, strength training and stretching are 3 musts. Then 2) Eating well and drinking well. Let's focus on healthy eating and healthy recipes and in particular what I eat in a week.
BREAKFAST
If you know me at all or if you follow me on Instagram (you can do so here), you know I LOOOOOVE my smoothies and that's pretty much all I've been having for breakfast for the last 2-3 years. Why? It's an easy and complete meal for me that includes: (plant-based) protein, greens (organic baby spinach most of the time), antioxidants (frozen organic berries) and some other superfoods like spirulina, maca powder and more.
I was also into breakfasts bowls for the longest time. The base was usually gluten free oatmeal and then I would get creative with the toppings. You can find a ton of great examples in my Facebook album here.
There are of course so many options for breakfast asides from smoothies/breakfast bowls or the usual toast and cereal bowl. Click the following for some recipes to fight breakfast boredom.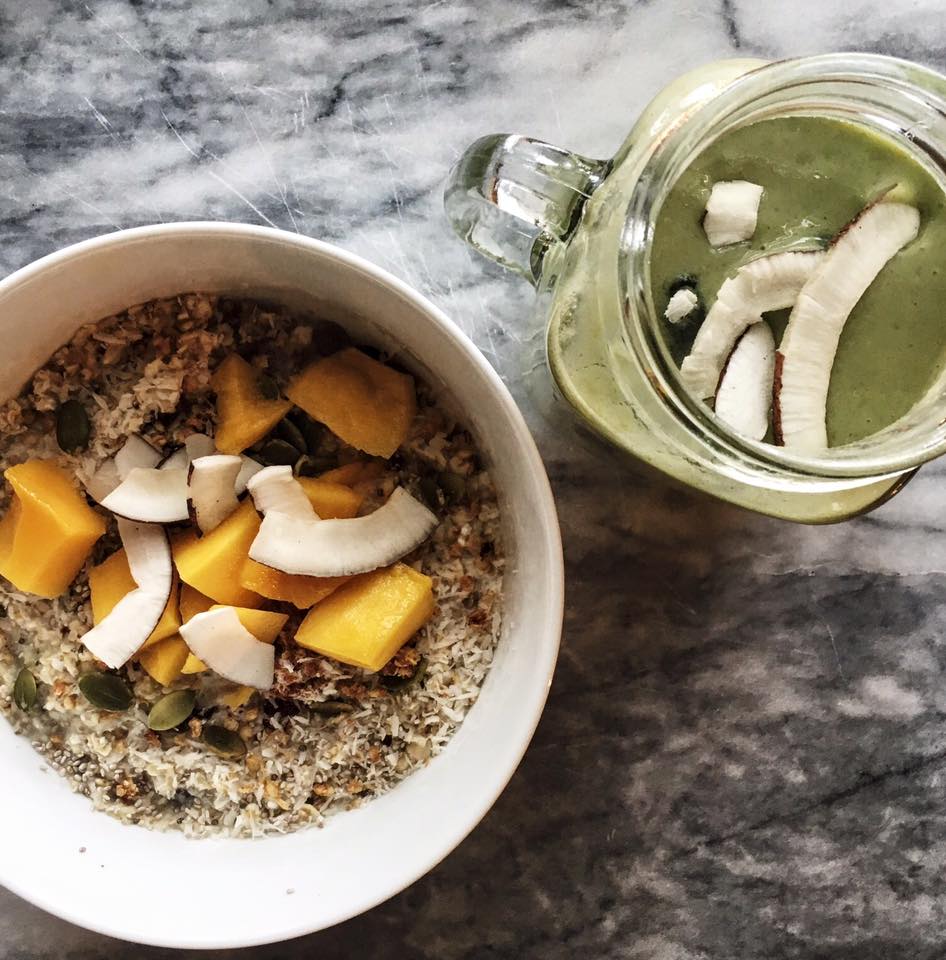 LUNCH
Most of my lunches are at work and are left overs from previous suppers because why make life more complicated? I always make extra portions of my suppers for exactly this reason. It's a no muss no fuss way to make sure I have a healthy meal on hand and don't have to resort to junk food because that's mostly what's available around work. Let's move on to supper then, shall we?
SUPPER
During the warmer seasons I love salads. Once again, not the boring kind (boring, bland meals are the worst way to eat healthy on the long term). Here are some recipes for sexy salads that will rock your world (and that I have on repeat all spring/summer long). During the cooler months, I go for more comforting but still healthy foods like something containing seasonal veggies like squash. You can find two amazing recipes for that here and here.
I love asian inspired foods as they often have a vegetarian version like these spring rolls with peanut sauce or this crunchy ramen salad.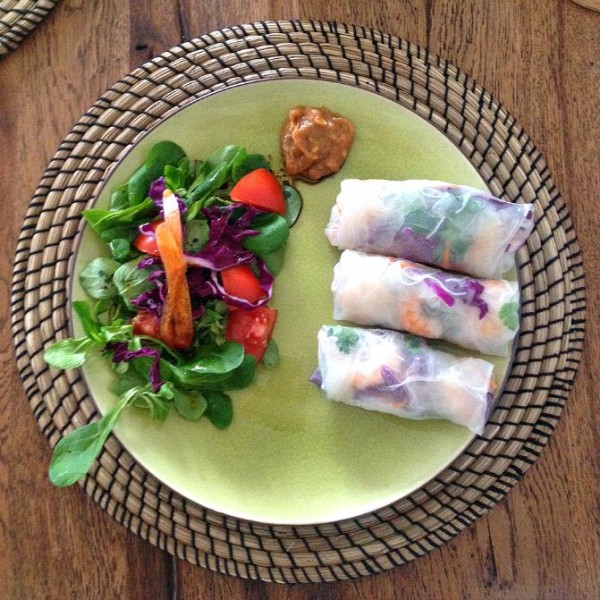 If you want a few of even more SUPER SIMPLE meal ideas, here are some go-tos that I share on my Instastories:
Organic spaghetti sauce mixed in with sauteed mushrooms and added on gluten free pasta
Gluten free pasta with chopped celery, cherry tomatoes, green onions + a can of tuna
Roasted beets + burrata  + basil salad with balsamic vinegar and olive oil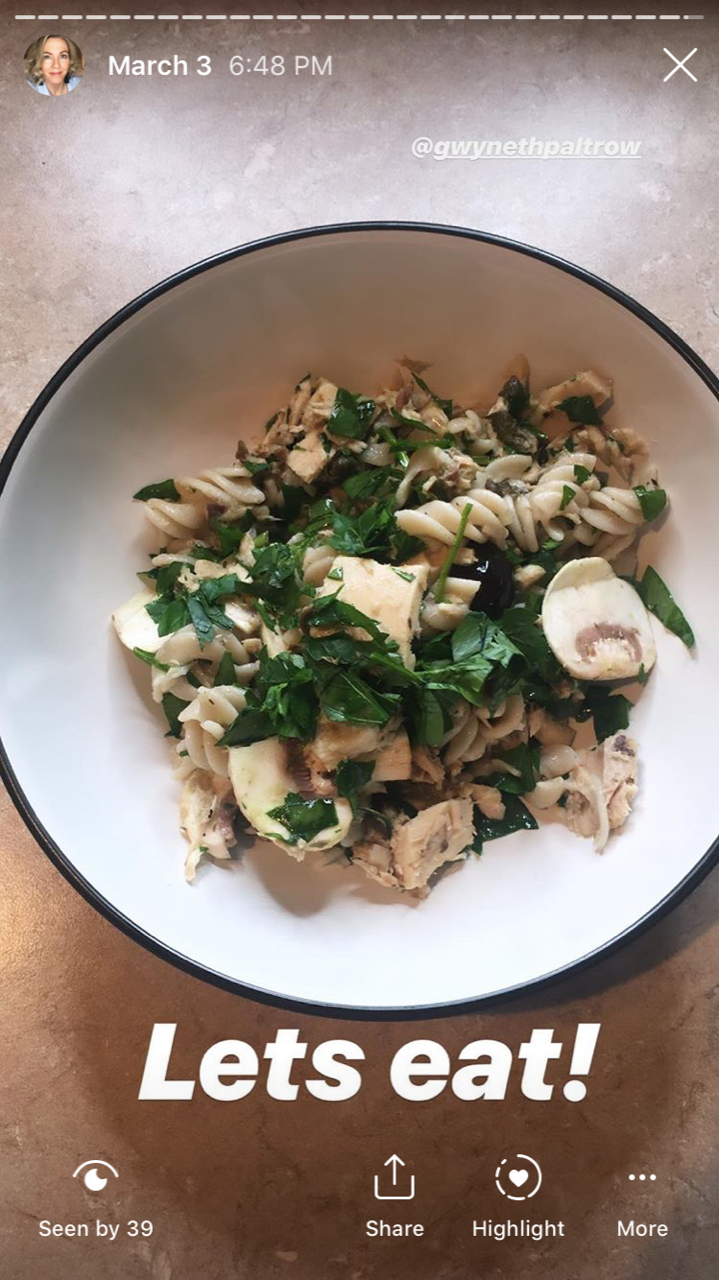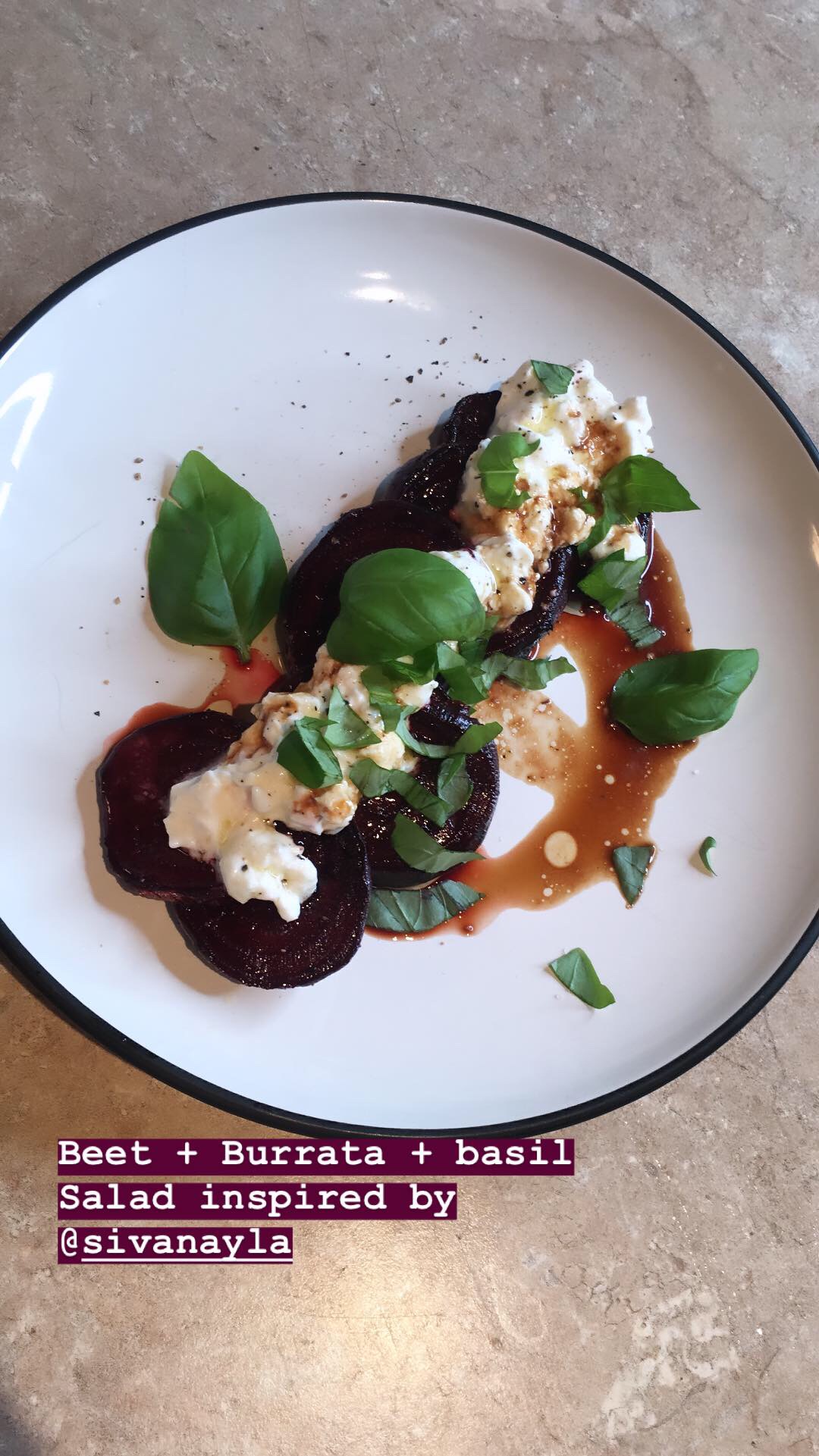 If you're on the hunt for some cooking inspiration, take a look at my favourite recipe books.
I also have to give a shout out to the Tone It Up nutrition plans. Even though I've never followed one strictly during one of the TIU series, they are full of healthy and easy meal options. One of my faves is the spicy zoodles (spiralized zucchini with a super yummy almond sauce).
SNACKS & DESSERTS
What's a girl to do when she has a sweet craving but still wants to eat healthy? From time to time I'll go for the full on decadent dessert like this chocolate tart but most often something more reasonable and healthy will do the trick. Here are some of my favourites:
Dattes stuffed with almond butter (sweet and rich and healthy!)
A small bowl of cinnamon cereal with almond milk
A container of chocolate almond or soy milk (satisfies that sweet tooth and contains protein which is filling)
Plain greek yogurt + berries (also love this passion fruit parfait)
There you have it! I could honestly go on and on about food but don't want to make this post too long. Let me know if you have any specific questions on this topic, I'll be happy to answer or perhaps even write another post!
Want more? Check out My favourite healthy foods video! I also highy recommend you follow me on Instagram as I share what I eat pretty much on the daily in my Instastories. ;) Until next time! Geneviève xo