I often decide to do a recipe simply because I find the image inspiring. In this case, it was a gorgeous large sized photo of bright orange carrots with black sesame seeds featured in Gwyneth Paltrow's latest cookbook It's All Good.
After I posted the above photo on the usual social media suspects (Facebook, Instagram, Pinterest), my mother called wanting the recipe which is always a good sign and also an indicator that other people would probably want to whip up as well. Alors, la voici ma chère maman d'amour!
Serves 4
2 tablespoons extra virgin olive oil
2 teaspoons finely minced fresh ginger
4 large carrots cut into matchsticks (about 4 cups)
Coarse sea salt
A couple of drops of hot toasted sesame oil (I didn't bother toasting it)
1 teaspoon soy sauce
1 tablespoon toasted black sesame seeds
Heat olive oil in a large nonstick skillet set over high heat. Add the ginger and cook, stirring it into the oil, until it becomes fragrant, just 30 secondes or so. Add the carrots and stir to combine them with the gingery oil. Add a big pinch of salt and 1/4 cup of water and turn the heat down to medium-high. Cook until the carrots just begin to soften and the water evaporates, 4 to 5 minutes. Stir in the sesame oil, soy sauce (I replaced with gluten free tamari sauce), and sesame seeds and serve.
---
If you are into healthy eating (and I assume you are if you are on this blog) and love inspiring food photography, I highly recommend Gwyneth Paltrow's recipe books. They offer a lovely variety of recipes (not just sophisticated granola ones) and types of meals (even something for the kids.
The It's All Good recipe book is divided into the following sections: pantry, morning time, salads + a few great dressings, soups, birds + some meat, fish, vegetables, grains, some drinks, the kids' menu, sweet tooth, basic recipes.
Gwyneth's two other recipe books (including her latest It's All Easy) are also a must haves.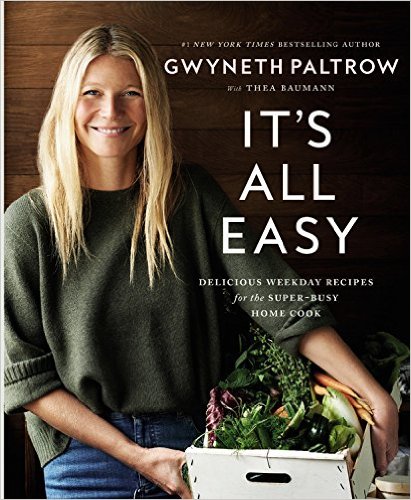 For another great Gwyneth salad option, I love this gyro salad recipe from her site GOOP. Are you a salad fan? Do you have a favourite salad recipe? Let me know in the comment section below!